WS05BHF Series 3887 - 1/2 HP Sewage Pumps
Goulds Pumps
FEATURES
Pump Body:
Cast iron
Impeller:
Cast iron, semiopen, non-clog with pumpout vanes for mechanical seal protection. Balanced for smooth operation. Silicon bronze impeller available as an option.
Shaft:
Corrosion-resistant, stainless steel. Threaded design. Locknut on all models to guard against component damage on accidental reverse rotation.
Shaft Seal:
Mechanical Seal: SILICON CARBIDE VS. SILICON CARBIDE sealing faces (strongest known seal combination). Stainless steel metal parts, BUNA-N elastomers.
Ports:
Discharge size: 2" NPT threaded companion flange as standard. 3" option available but must be ordered separately.
APPLICATIONS

• Solids handling capabilities: 2" maximum.
• Temperature: 104°F (40°C) continuous, or 140°F (60°C) intermittent.

Specifically designed for the following uses:
• Homes
• Sewage systems
• Dewatering/Effluent
• Water transfer
• Light industrial
• Commercial applications
• Anywhere waste or drainage must be disposed of quickly, quietly and efficiently.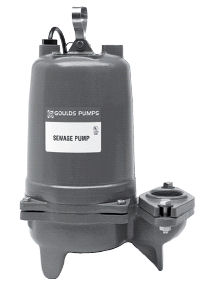 Available WS05BHF Series 3887 - 1/2 HP Sewage Pumps
Model #
Description
Price / ea.
ORDER
CAN SHIP